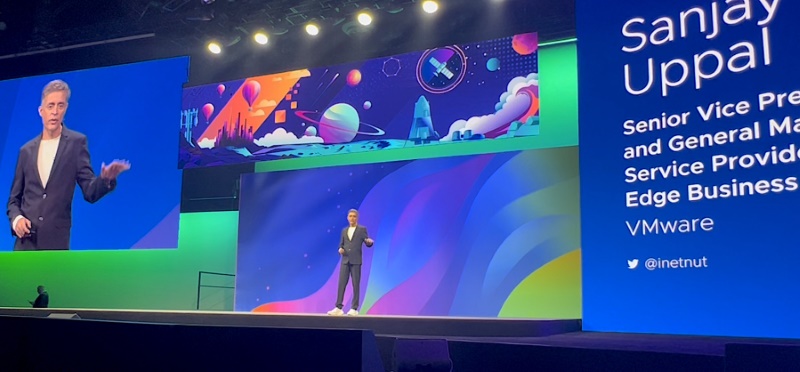 In my VMware Explore wrap-up post, one of my key takeaways was that the edge is the next big frontier for the company. Given that, I thought examining VMware Inc.'s vision of the edge a bit more closely made sense.
The afternoon keynotes were highlighted by Sanjay Uppal, senior vice president and general manager for VMware's service provider and edge business. He opened his keynote with a video that asked, "Where is the edge? How about everywhere?"
That answer may seem a bit trite, but it's correct. While the different vendors articulate edge in their own terms, such as telco edge, cellular edge and the like, the edge is defined by the constraints on the environment, such as limited bandwidth, processor and storage. This means the edge can literally be anywhere.
As the video wound down, Uppal started his keynote and said, "All the world's an edge." The growth of devices at the edge is proof of that. Uppal shared some data on internet of things endpoints: 77% growth in IoT devices over the past four years and a forecast of 50% penetration of machine learning by 2026. IoT is a significant driver for edge as the data from those connected "things" is often best processed where they are located versus having to backhaul the information to a centralized cloud.
Uppal said we're living in an age when everything is connected, and those devices and things send data that needs to be acted upon. All this falls under the purview of the software-defined edge, which, as Uppal stated, is why the demand for edge is growing exponentially. The result is mountains of data that need to be sifted through.
"These locations where the devices are producing or consuming data are in tens, hundreds, thousands — sometimes hundreds of thousands of locations," Uppal said. "And the reason why this infrastructure needs to be colocated is because sometimes you cannot tolerate the latency of having this information go all the way to the cloud and then come back to be acted upon at the edge. So low latency is a primary reason."
Uppal talked about VMware's heritage in the software-defined data center and how what happens on the edge differs from the data center. Things at the edge have to be slimmer and lighter. "For some of the edges that we've deployed in branch offices, these run on two core Atom-type class of devices with less than a gigabyte of RAM," Uppal said. "So we're talking about extremely space- and resource-constrained things."
Uppal added that rightsizing the infrastructure is very important. He said the second critical piece in deploying the edge infrastructure is a zero-touch orchestration to install, configure, operate and maintain everything. Automation is a must for such widely distributed and complex environments.
Given edge platforms are often in places where there are no people, I see zero-trust security as table stakes. If an edge provider does not offer this, it puts the customer in a tough position.
Uppal shared a video about the edge needs for police cars, supported by VMware's Edge Compute Stack, which helps shrink down the size of the gear needed in each vehicle, something he described as a miniaturized branch office on wheels. I've always liked using vehicles as the ultimate example of an edge because the decision of whether to take an action, like stopping, needs to be done in-car versus waiting for data to be sent to the cloud and back.
Mariam Sorond, chief technical officer for service provider and edge at VMware, then came onstage. "What the police force is doing at the edge is an example of the opportunities created by the enterprises that go beyond the traditional bounds of their operations," she said.
Similar applications can work in many verticals, including manufacturing, hospitals, retail, and oil, gas and energy. "Every industry worldwide is going through a transformation to remain agile in a very complex and dynamic marketplace," Sorond said.
She said communication service providers can move beyond just higher speeds and more coverage. They can now provide a secure, reliable, consistent and programmable connectivity solution that enterprises can consume more easily.
Sorond then moved on to use cases and brought on stage John Swieringa, president and chief operating officer of DISH Wireless, who said, "We didn't have an edge strategy for ourselves. And so we realized we needed to build one in the form of a new 5G network to accomplish the types of things you're talking about."
Swieringa added that, after convincing boards that we needed to move workloads into the cloud, we're now seeing the pendulum shift in the other direction. "There's big tradeoffs that happen when you're looking at moving compute to the edge," he said. "And we know what it is: It's management overhead. How do you manage all these things? How do you ensure you don't blow up your ROI?"
VMware Explore was full of good stories about the promise of the edge. We see the growth continuing to outpace the cloud for the foreseeable future. But whether the stories we heard on stage — during Uppal's keynote and in other sessions — will come true remains to be seen. Although I believe VMware's position in the data center gives them an "edge" at the edge, the environment will be highly competitive.
I did like Uppal's focus on IoT because it brings together all the different parts of the portfolio of the group he runs, including the edge platform as well as telco and private mobility, secure access service edge and security. However, market leadership isn't a fait accompli; from here, it comes down to execution.