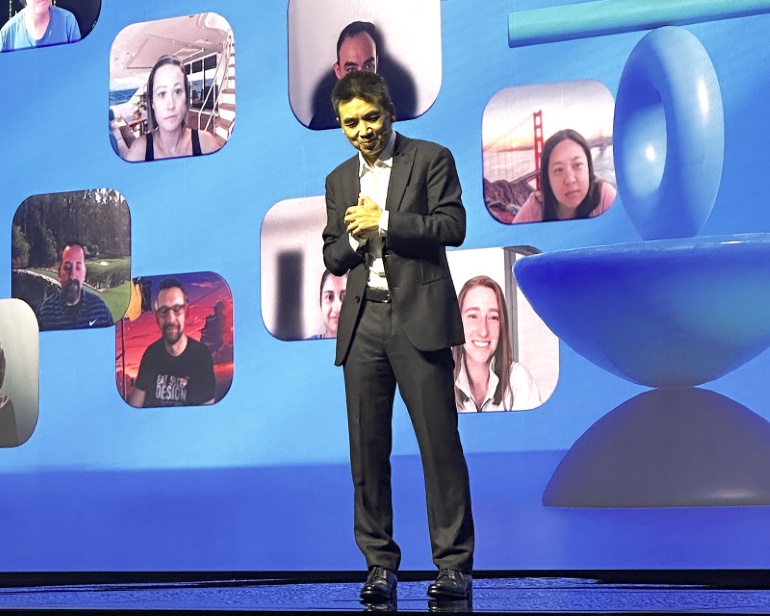 Collaboration services provider Zoom Video Communications Inc. held its annual user event, Zoomtopia, this week in its home city of San Jose, California.
This has become the event for the company to set its vision for the industry and launch new products. In 2022, Zoom used the conference to boldly launch its Mail and Calendar features within the Zoom client. Given the magnitude of that move, I was looking forward to seeing what the company had in store for the audience this year.
The new products announced certainly didn't disappoint as Zoom made another daring move with the unveiling of Zoom Docs, calling for the end of the 8½-by-11 format as a form of collaboration. There is some validity to Zoom's claim, since products such as Microsoft Word and Google Docs are meant to replicate a sheet of paper, which we print and then share with others.
The reality is we are living in an increasingly paperless world but haven't fully transformed the apps and tools we use to support that. Other announcements include unified search, contact center updates, Workvivo integration and a re-introduction of AI Companion.
The product announcements are always interesting, but what's more important is what they mean in the bigger picture. These are my top five thoughts from Zoomtopia 2023.
Zoom Docs is much more than documents. The company designed its Docs offering as a dynamic collaboration canvas where users can create workflows, organize data, track tasks, build tables and blocks, and much more. Although one could use it to create a traditional document, that would be a waste of the potential and akin to using an iPhone only to make phone calls. The comparison has been made to Word and Google Docs, primarily because of the name, but a more appropriate comparable company is Notion. The world does not need another Word lookalike. Google has attempted to build a better mousetrap for years and largely failed. Instead, Zoom has taken the approach of rethinking the mousetrap.
AI and search are keys to Zoom's platform success. Zoom has evolved from a video meeting company to arguably the most complete, single-stack collaboration platform. Microsoft may have more components, but few are integrated at the back end. When Zoom announced Mail and Calendar, I turned it on to see what the company was bringing that I could not get from Gmail and have been somewhat underwhelmed. At Zoomtopia 2023, the company announced a global unified search feature that brings value far beyond being another tab in the Zoom client. With all the forms of communication, it's hard to remember how and when someone sent me something. Often, I'll need to search Zoom Chat and then Gmail. Now, with a unified search, one search can span all the services, so how a person communicates no longer matters. AI takes that one step further, as the idea behind AI Companion requires a unified set of data instead of the separate silos we have now.
Zoom isn't afraid of Microsoft but would like a level playing field. Most of the collaboration vendors have ceded the leadership position to Microsoft Teams. Not because of product quality — almost every collaboration tool is easier to use — but because the Microsoft licensing engine keeps customers locked in. When I attend analyst events or user conferences from other vendors, there is always a heavy dose of Teams interoperability. At Zoomtopia, nary a word was said about Teams coexistence. Zoom believes it has a superior product and, with a level playing field, feels it can win any customer. Earlier this year Zoom Chief Executive Eric Yuan (pictured), applauded the European Union for forcing Microsoft to unbundle Teams and called out the Federal Trade Commission to do the same. During the analyst Q&A at Zoomtopia, I asked Yuan to expand on this, and he talked about how lock-in is bad for customers as you wind up with products such as Internet Explorer, which had a dominant share but had a very poor user experience. When forced to unbundle, IE's share fell like a rock because customers could use a better product and chose Chrome. I'd like to see Microsoft and the entire unified communications industry offer migration application programming interfaces to make it easy to switch vendors. Microsoft CEO Satya Nadella talks about doing what's best for the customer, but not giving customers a choice isn't doing that.
The federated AI approach is differentiated. When Zoom talks about AI, the word "federated" always comes up. This approach enables Zoom to make a bet on a generative AI provider but then switch if it needs to. In talking with Zoom CTO Xuedong (XD) Huang, the company does not believe there will be "one model to rule them all," so the federated approach gives the company the ability to leverage its own AI models but also those from Anthropic, Meta Platforms Inc. and OpenAI LP today, but if a better model emerges, it can switch. This should enable Zoom to keep up with bigger companies and stay at the leading edge of features because of the agility the federated approach brings.
Ecosystem growth is coming along, but more to do. Like most communication providers, Zoom positions itself as a platform company. However, the term "platform" means more than bundling a bunch of solutions together under a single license. A true platform enables a large ecosystem of companies working with the platform vendor to create greater customer value. Zoom is aware of this and has been trying to fuel the ecosystem and has programs in place to help independent software vendors build the "next big theme" on Zoom. At Zoomtopia, the company touted an ecosystem of 2,500 companies, which is certainly nice but small compared with the hundreds of thousands a company such as Salesforce Inc. has. Also, the Expo Hall had hardware vendors, network suppliers, telcos and other traditional partners, but I did not see any software partners. At future Zoomtopias, I'd like to see a dedicated area to expose customers to all the great applications they can run on top of Zoom.
Overall, my experience at Zoomtopia was a positive one. One of the unique things about Zoom is that it's a business application that users tend to love and will be vocal when forced to use another product. I talked to several customers, and this sentiment still holds true. Zoom has driven a significant amount of innovation into the product but, throughout it all, has maintained a product that is easy to use, and that is the most difficult engineering task of all.