By leading with contact center offerings instead of unified communications, the company is well-positioned to capitalize on a growing demand for customer service solutions.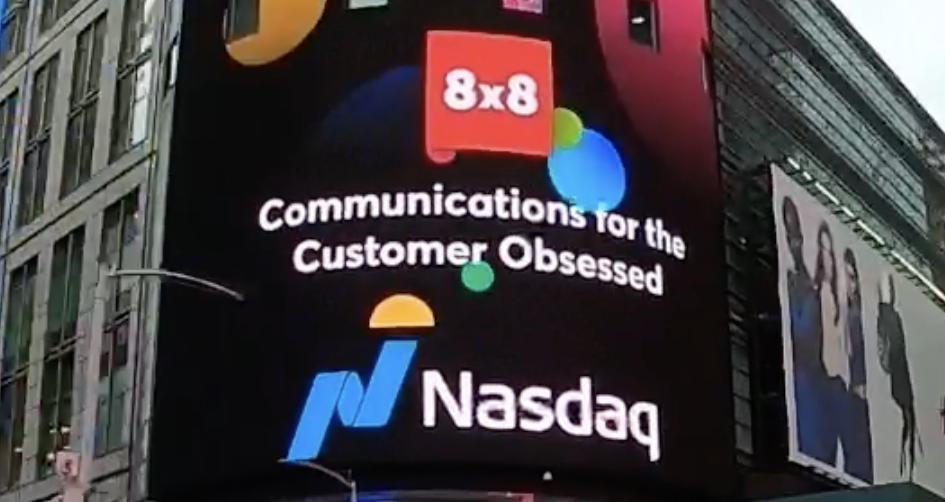 Last Friday, cloud communications provider 8×8, held an event at Nasdaq's headquarters in New York City's Times Square. The company used the event to launch several AI centric product enhancements, but more importantly, 8×8 announced a pivot in strategy. The company will continue to go to market with XCaaS — that is the coming together of UCaaS and CCaaS — as the focal point but will lead with contact center offerings instead of unified communications. In the past, 8×8 looked to "land" a customer with its employee-facing UC application and then "expand" into contact center. Now it will do the reverse.
8×8 also debuted a new tag line – "Communications for the Customer Obsessed" which, as CCaaS product marketing head Jessica Smithexplained to me, is an obvious double entendre. She told me, "We are completely customer obsessed, and we are working to innovate and focus on our customer experience technology so our customers can make some incredible advancements in how they are servicing their customers".
This pivot to being CCaaS -irst is an important one for 8×8, as it should help them land bigger, more sticky deals. UCaaS isn't quite a commodity but it is getting more and more difficult for a service to differentiate itself among the myriad of competitors. Vendors need to continually add features merely to hold the price point steady. Conversely, the AI-based innovation in CCaaS should drive price points up. Also, the number of users that need a CCaaS seat today has more than doubled. Historically, contact center agents were the only workers that required a contact center seat. Today, businesses are giving contact center seats to other workers that are customer facing. This includes customer success, inside sales, account managers, marketing professionals and more. One insurance company I worked with last year is even giving contact center seats to its field adjusters.
Another reason the CCaaS-first strategy makes sense is that this new group of contact center users are the ones that benefit most from the XCaaS value proposition of seamless communications inside the organization and out to customers. Almost all CCaaS workers also need UCaaS but the converse is not true. This makes the sales motion much different for 8×8. With a UCaaS-first approach, the primary focus is on employee experience. While this is certainly important, it doesn't have the same level of C-level visibility as customer experience (CX) as CX is now the top brand differentiator. Small changes to CX can have a huge impact on revenue and profitability. Once 8×8 has secured the contact center seats, adding on UC is a nominal upsell, much easier than the reverse.
The timing is right for 8×8 to make this shift. It's been about 18 months since the company launched XCaaS and for most of that time it's been in learning mode trying to understand how its customer are taking advantage of the integrated platform. At the event, Jessica Smith hosted a panel comprised of four 8×8 customers to discuss the value of XCaaS. During the event, customers talked about the value of a single platform. One customer described the "pre" workflow as disjointed as workers would use Microsoft Teams for internal communications and 8×8 for customer facing. This created a significant amount of human integration where people had to move information between the systems manually. The CIO stated that "We have seen a migration away from Teams to 8×8 since the implementation as the workflow is much simpler."
Another UK-based customer discussed the value XCaaS has had in responding to calls faster. He stated that they can now automate the creation of phone lines to allow inbound calls to go directly to the right people. Previously, calls would come to a switchboard and then a receptionist would need to look up the number and put them through, if that person was engaged, then put them on hold and try another. These case studies and customer stories give 8×8 a better narrative to sell around than it had even last year.
One final point: During the event, I did ask Smith if 8×8 was backing away from UC and she responded with, "Absolutely not. UC is still a core part of our strategy. XCaaS stands for experience communications as a service and it's really that experience that we're focused on now. Delivering those experiences within the organization from an employee perspective, from a customer perspective. We want to make sure that we are providing an organization all the tools necessary to effectively service their customers and employees are a core part of that."
With this shift, 8×8 becomes the first UCaaS vendor to make the shift to selling CCaaS first. While most of the others have contact centers either through partnership or as an integrated offering, the sales models were built around callings and meetings. Given the intense focus on CX, it will be interesting to see if others follow.