The 2023 Ryder Cup is being held through Oct. 1 at the Marco Simone Golf and Country Club in Rome, and the event is expected to take in 250,000 spectators — most of whom will be looking to text, tweet, Instagram and Facebook.
Knowing that today's fans expect not just a good but a great experience, the Ryder Cup, with the help of Hewlett Packard Enterprise Co., designed a network that could deliver the connectivity required to enable an experience worthy of this top-tier golf event.
There were some challenges in doing this. First, the golf course encompasses 370 acres of land and has many archaeological protections, such as the limited digging allowed to lay down fiber. Also, golf is unlike other sporting events that have one large field of play. Instead, there are 18 smaller fields, each of which could have thousands of people depending on the moment.
If John Rahm is battling Scottie Scheffler in a singles match, a large crowd will likely follow them from hole to hole, shifting the network demands. Other hotspots include food and beverage areas, the merchandise store and the viewing area with many large screens.
Solving these challenges required a hybrid network that utilizes both Wi-Fi and private 5G, or P5G. More specifically, it employs Wi-Fi 6 and Wi-Fi 6E for double the capacity compared with the 2018 event in Paris, with more than 800 Aruba Wi-Fi access points deployed as well as private 5G from Athonet, which HPE acquired earlier this year. Since there were limitations on digging, Wi-Fi provides connectivity to the fans and staff, but the P5G is used for wireless backhaul.
The network's backbone is built on 200 HPE Aruba CX switches and managed using artificial intelligence-powered Aruba Central, which offers improved visibility and control over the entire network. The cloud-based management system also supplies AI-driven insights for network troubleshooting, optimization and security. During a press and analyst session, Ryder Cup Chief Technology Officer Michael Cole told us that even though the network is much more extensive at the Paris event, the automation and AI capabilities enabled them to cut their technical operations center staff in half.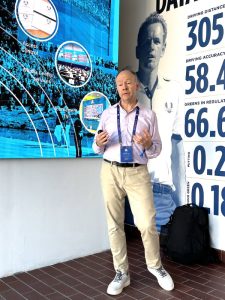 On the security front, the Aruba ClearPass policy management platform provides secure access control across the Wi-Fi infrastructure. Using ClearPass, administrators can introduce new devices, assign different access levels and maintain network security, ensuring that the devices adhere to security policies while connecting to the network.
The network and the computing environments are operated from the HPE GreenLake platform, which allows organizations to use services directly on-premises or in the cloud without investing in physical hardware. In addition to reducing the need for on-site equipment, the platform collects data on energy consumption, carbon emissions and electricity costs.
The P5G network spans the golf course, operating from a central radio mast equipped with the Athonet Tactical Cube, a compact, portable private cellular network for mission-critical apps. It extends connectivity to more isolated parts of the course by linking to solar-powered Wi-Fi access points, further eliminating the need for cabling. This P5G network also creates a secure, segmented environment for critical operations that need guaranteed bandwidth.
Italy usually reserves all 5G spectrum for mobile service providers, limiting others to direct access, but an exception was made for the Ryder Cup. The Italian government made a special allowance, granting access to the 3.8 GHz band (N77 standard), which is suitable for 5G because it can transmit extensive data over long distances. It's an example of the critical role that government support plays in enabling private 5G innovation.
The network is also used for critical video services. The event features 25 massive LCD screens across the course, which show highlights, pairings and real-time scoring. This is a 25% uplift from the Paris Ryder Cup. There are also 550 TVs used for media. The combination of the two Cole described as "complicated and immense in terms of scale." Fans will immediately notice any outage and it would limit the TV networks' ability to broadcast to an estimated 600 million households worldwide.
Additionally, the network is gathering a massive amount of data from the players. Cole mentioned it's collecting 15 data points on every shot from every player, resulting in tens of thousands of data points purely on player performance. This data and the intelligence gathered have enabled this Ryder Cup to make the mobile phone a key part of the fan experience.
Through the Ryder Cup app, fans can track players, see highlights and gather insights such as driving distance and greens in regulation. "We have shifted the focus from delivering a connected experience to an intelligent one," Cole said.
Sustainability was another key focus for Cole. The AI-enabled analytics from the Clear Pass cloud can automate several features to reduce power. As an example, the network can track how people move around the course, and as they do, power to the access points can be reduced or even put into sleep mode where they're powered off. HPE also built a sustainability dashboard that looks at power consumption and CO2 emissions, which is a first for any Ryder Cup.
The network also included an IoT network comprised of about 250 endpoints, which provide environmental information connected through four IoT gateways. One of the issues in Rome is a large rat population, which, for some reason, is attracted to the fiber. IoT-enabled motion sensors are deployed in the cabinets and remote network nodes to sense if a rat has made its way into it. This enables the technical team to act and proactively address the issue before it becomes a problem.
Ultimately, these improved network capabilities at the Ryder Cup give fans an enhanced experience. Modern spectators seek constant connectivity and desire experiences that are personalized and enriched with immersive content. With insights from HPE's network, attendees can virtually navigate the golf course, cut down on wait times for merchandise and food, and track players from anywhere on the course. Meanwhile, the operations staff can use these insights to allocate more staff during high-traffic times and engage with fans throughout the event.
Cole summed up the result of the work his team and HPE put in getting ready for the event by stating, "Any outage could impact viewing the Ryder Cup not just here but out to 167 countries. This is why we built a highly reliable five-nines infrastructure. We aren't just delivering connectivity but the most intelligent experience for any temporary sporting event in history."