The drawing board is excellent. At that stage, anything is possible. But the real magic happens with implementation and outcomes. Ideas are only as good as the results they produce. Outcomes pay the bills.
That's why it's interesting to see Cisco announce its new Cisco Lifecycle Services. This new offering takes the best of its Business Critical Services and adds new capabilities. With a focus on outcome-driven solutions, Cisco will help its customers prove their investments' value and lower costs.
Cisco has evolved its service offerings many times. Each time with a goal of better aligning its services to help the changing needs of its customer base. A recent ZK Research survey showed that 45% of companies say data security and privacy are the top concerns. Coming in second is reducing costs at 34%. Third on this list is improving customer experience (31%).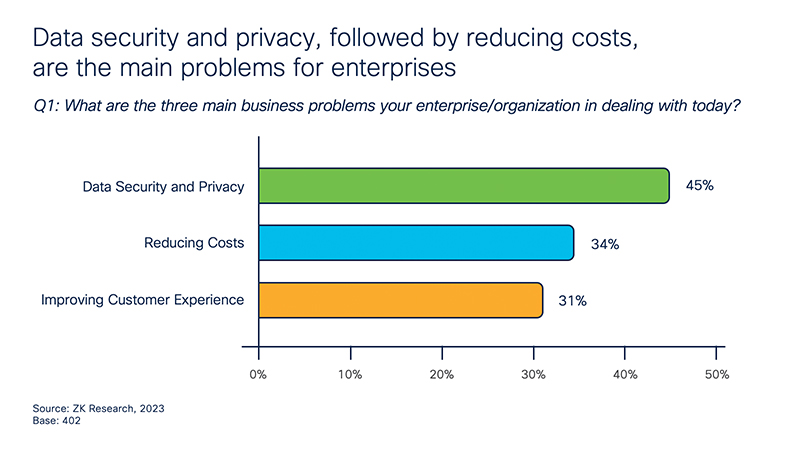 Historically, it's been challenging for companies to achieve all three of these goals. In fact, two often seemed like a monumental undertaking, as reducing costs typically meant sticking with the status quo. While data security and privacy often get in the way of customer experience. As ZK Research data shows, the challenge for IT and business leaders is that all three are now a business imperative.
These urgent and seemingly conflicting aspirations will only succeed if they lead to positive outcomes. In other words, unless you improve your data security and privacy posture, merely saying they're your goals means next to nothing.
Cisco Lifecycle Services operates via the following:
1. Continuous engagement: Cisco says its experts will use desired outcomes as a compass, then identify and prioritize the right IT optimization and transformation initiatives across people, processes, and technology. This engagement will continue across every stage of the tech journey. Cisco experts will work with IT teams and ecosystem partners to implement the solutions and drive adoption that delivers business impact.
2. Realize tech value: IT teams, with Cisco's help, can make informed decisions without complex data analysis, using AI/ML tools that take telemetry data and turn it into insights and actions.
3. Faster time to value: With automated KPI measurement and quarterly business reviews, the Cisco experts will help you share clear and measurable outcomes.
4. Flexible choices: There is no typical enterprise. Cisco designed its Cisco Lifecycle Services for an enterprise to use the company's expertise and scale outcomes to match an enterprise's needs—with options ranging from deep advisory, working as part of the team, and fully managed service.
How Cisco Lifecycle Services Work
After Cisco Lifecycle Services moves to delivery, the Cisco team aligns with the enterprise on the outcomes, services, KPIs, and priorities. From there, Cisco's simple five-step engagement process will kick in.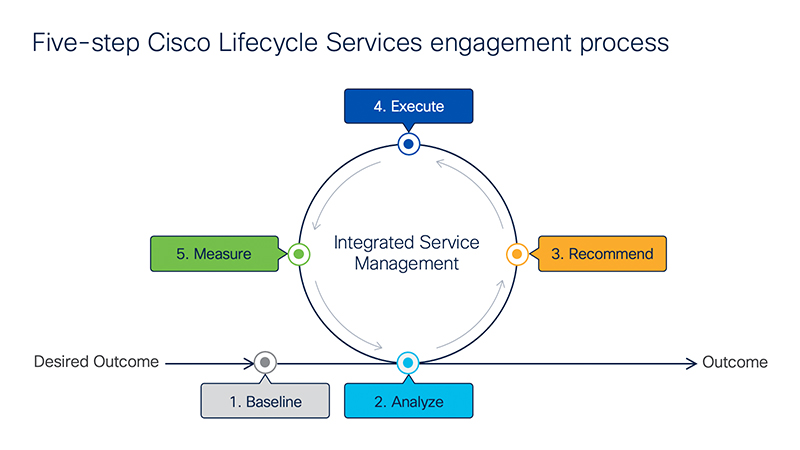 1. Baseline: It all starts with setting a baseline to measure, track, validate, and report on outcomes and KPIs.
2. Analyze: The Cisco experts then analyze snapshot data to identify risks or opportunities.
3. Recommend: The delivery team will identify necessary actions and recommendations.
4. Execute: When it comes time to execute, Cisco says it will be flexible, with three levels of engagement: Advise Me, Do It For Me, or Do It With Me.
5. Measure: Once delivery commences, Cisco will test and measure KPIs and then validate progress.
Cisco Lifecycle Services is not a do-once-and-you're-done process. It's a continuous drive to specific outcomes. The quarterly business reviews uncover the impact of the initiatives and then recalibrate priorities in a 90-day plan.
Everyone in IT is judged on outcomes. It's what determines the success and failure of a technology group. It's nice to see Cisco recognizing this and working to help IT organizations succeed. My bet is that this new approach will be successful.
But, in the end, it'll be judged by the outcomes. Which is a good thing.